MR - Classic 8-Mile Whitewater - Small Boat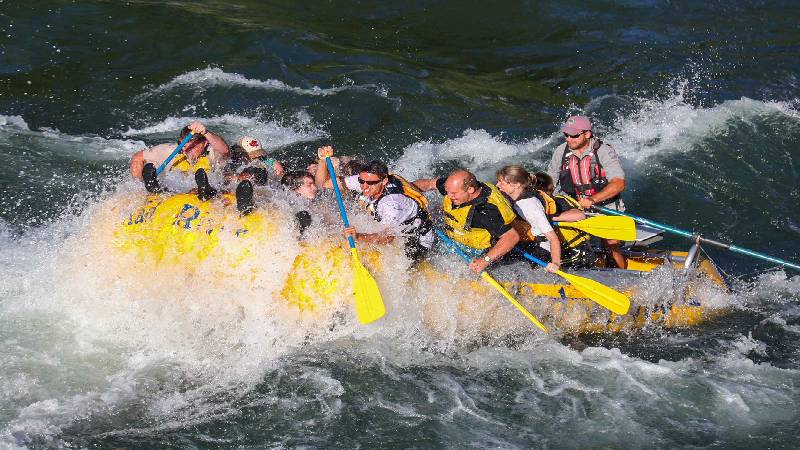 Duration: 210 Minutes (approx.)
Location: Jackson, Wyoming
Product code: MRBT002


TRIP DETAILS:
This trip launches from West Table Boat Ramp in the Snake River Canyon and winds its way south toward Alpine, WY. You'll travel 8 river miles from start to finish. There are about 8 sets of rapids, ranging from class I and II to class III. Various river features will be encountered, such as Lunch counter and Big Kahuna rapids, Million Dollar Fishing Hole, and Double Draw Rapid. Your whitewater rafting guide will share information on the history of the area as well as teach you about the local flora and fauna.
The Snake River Canyon is rich in geological history and your whitewater rafting guide will point out some of the features that make this canyon unique. You might see river otters, osprey and bald eagles on your trip. The lucky few might even catch a glimpse of a mountain goat, a mule deer, an elk or even a grizzly or black bear.
MR - Classic 8-Mile Whitewater - Small Boat is a big adventure trip on the Snake River. With 8 passengers in a small white water rafting boat, you will really feel the whitewater rapids. All participants should be able to paddle on this trip. Your Mad River guide will rely on the passengers to power the raft so everyone should be physically fit and ready for a challenge. On a small whitewater rafting boat, you can expect to get wet, no matter where you sit in the raft. With small boats, we require at least 4 adults for the 6-8-person boat.

CHECK-IN & TRANSPORTATION:
WHEN: 30 minutes prior to your scheduled trip time

WHERE: Mad River Boat House, 1255 South Highway 89 Jackson Wyoming 83001

**Transportation from the Mad River Boat House to the river and back is provided on every Mad River trip.
BOAT TYPE:
This trip features our standard size raft. This raft is an AIRE inflatable, self-bailing, 18'3" raft. It seats 8 people per boat. There are non-paddling and paddling positions in this raft. We also offer a smaller 6-8 person boat. All AIRE boats are made in Meridian, Idaho, USA.
Available June to mid-September
Recommended for first timers and seasoned river rats age six and older...
TRIP TIME: 3 - 3.5 HRS (door to door)
CANCELLATIONS OR CHANGES:
There is a 48-hour cancellation policy on this trip. For groups of 10 or more, there is a 72-hour cancellation policy.