SS - Winter - Grand Canyon Snowmobile Tour - PRIVATE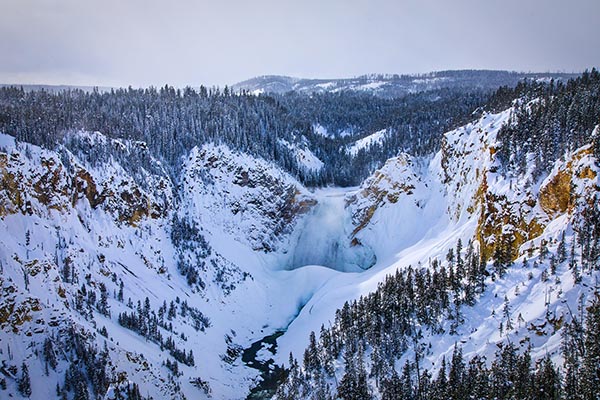 Duration: 12 Hours (approx.)
Product code: SS0002x
Most of Yellowstone's big game animals come down into the lower warm valleys for food and shelter. Follow the course of the mighty Yellowstone river as it cuts through granite chasms, creating the spectacular Yellowstone Falls, chronicled by artists such as Thomas Moran and Ansel Adams.
Yellowstone Full Day Tour Details:
Total Trip Time:

12 Hours

Departure Times:

6:00-7:00AM

Trip Ideal For:

Those who want to cover some miles! (and those who have already seen Old Faithful during winter)

Meals Menu:

Breakfast and lunch are included

Snowmobile Type:

2016 or '17 Ski Doo 4-Stroke Machines

Restrictions:

Driver's must have a valid drivers license & have had prior snowmobile experience. Children passengers must be 10 years old, but we highly recommend at least being 12 years old. This tour requires physical stamina and you must be able to be on a snowmobile for 6 to 7 hours in potentially subzero weather. If your party does not meet our restrictions, we do offer snowcoach tours to The Grand Canyon (please call for availability).
Park entrance fee and guide gratuity are NOT included

Hotel Pick-up is included
Tour Details:
Your guide will pick you up between 6:00am and 7:00am at your lodging and drive to Flagg Ranch where you'll have a hot breakfast and be outfitted with snowmobile gear- boots, one-piece suit, helmet, and gloves. After breakfast and getting geared up, you will then begin your journey through Yellowstone to The Grand Canyon.
You'll follow the groomed trail, 65 miles one-way, to the spectacular Yellowstone Falls. The trail follows Yellowstone Lake and you'll make stops each way for photos, wildlife viewing, and to learn about the history of the Park. This is an all day adventure that will have you on your snowmobile for about 8 hours. You'll return to your lodging around 6pm-7pm.
Please note that since this is such a long & physically demanding day, drivers must have experience in driving a snowmobile. We also highly recommend not being a passenger, passengers do not get the direct heat from the engine which makes for a colder ride.
HIGHLY NOT RECOMMENDED for kids under the age of 12 years old.