TT - Winter - Continental Divide Full Day Snowmobile Tour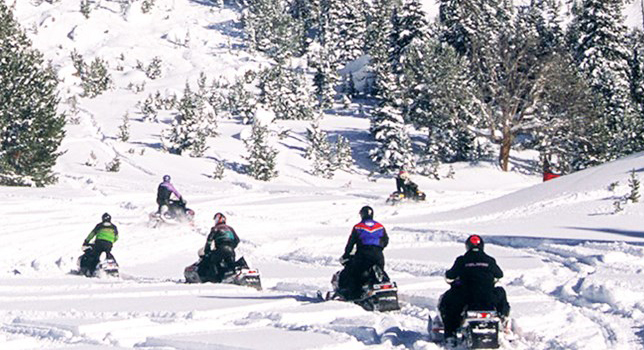 Duration: 8 Hours (approx.)
Location: Jackson, WY
Product code: TTC004
Continental Divide Snowmobile Tour:
The Continental Divide, also referred to as North America's backbone, cuts through Wyoming from the northwest to the south central border. Rivers east of the Continental Divide drain into the Missouri River Basin and eventually the Atlantic Ocean. Rivers west of the Continental Divide drain into the Columbia or Colorado River Basins and then into the Pacific Ocean.
Togwotee Pass (pronounced toga-tee) is a mountain pass located on the Continental Divide in the Absaroka Mountains of the United States, between the towns of Dubois and Moran Junction, Wyoming. The pass provides the most direct access to Grand Teton National Park from eastern Wyoming. Sweeping vistas of the Teton Range are visible from the western slopes of the pass. Togwotee Pass receives heavy winter snowfall, and is North America's premier destination for snowmobiling.
We offer 2.5 million acres of backcountry off-trail riding and 608 miles of well-groomed trail riding.
Our scenery is spectacular and can't be beat.
Our snow is typically fresh and powdery.
We have diverse terrain for advance snowmobiling.
Our winter season starts earlier and lasts a bit longer, making it perfect for all kinds of riders.
Tour Details:
Length of Trip: 9 Hours from pick-up to drop-off
Miles on Snowmobile: 30-100 varies by group
Time from Jackson to Trailhead: 40 minutes - 1 hour (road condition dependent)
Lunch: Grizzly Grill at Togwotee Mountain Lodge
Includes: Warm and Waterproof Snowmobile Suit, Boots, Helmet, Gloves (not during COVID), and Lunch